Transition Tips for Leaders Reentering the Workplace and Facing the Future of Work
After remote work took over a year ago, many teams have gotten used to the flexibility and freedom that comes from working remotely. However, as more offices open back up, reentering the workplace with an in-person work structure is becoming a reality. 
Transitions in general can be difficult to adjust to. They can be down right hard. Don't be surprised if it's harder on you and your team than you thought it would be. It may take some time getting used to reentering the workplace. As a leader, you want to make sure everyone feels safe as well. 
It is important for leaders to help guide employees through this transition. No two employees will experience the reentry the same way. Some might have trouble adjusting to the structure. Some might have difficulty being away from their family. In a way, they might be mourning the loss of working from home. 
Anticipating the transition could be difficult. Humans can adjust, it might just be a difficult few weeks or even months. As employees try to work through this change, it is important to create a compelling environment.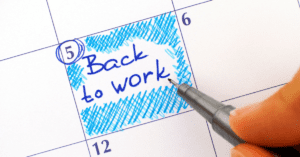 We're providing a few tips for leaders as they navigate reentering the workplace:
Talk to your team
Provide the team with as much information as possible before coming back to work. Help ease their uncertainties. Ask your employees what they're struggling with and be specific. Offer a few examples of why they could be feeling the way they are. Do they miss being able to go outside whenever they wanted? Do they wish they could have meals when it was convenient for them? 
Realize that complaints could mean the team member is in need of some extra support with the transition of working from home to coming back into the office. They could be venting and trying to express their thoughts. As a leader, it is important to let people feel their feelings. Instead of viewing these interactions as negative, ask your team members what you can do for them. 
Be real and honest with your team as well. Let your employees know this change will be hard and you'll be there to support them. 
Make time for employees
Employees need one-on-one time with the team leader. Carve out a schedule each week to sit down with your teammates and have focused communication with them. They should receive your undivided attention during this time. This could be a walk around the building, a sit down over a coffee, or anything else you can think of to make your employee feel you value what they have to say. Use this as an opportunity to listen, learn, and guide them through the transition period. Hosting "office hours" for quick drop in conversations is a good way to encourage your team to come speak with you.
Remind them of the bigger picture
Paint a picture of the end goal you have for the team.  Provide specific examples to your team members on why reentering the office should be seen as a good thing rather than a loss. For example, saying something along the lines of, "in a few months we can meet with clients in person to provide them with the best service we can possibly give," will give team members the motivation to work together. When everyone has a shared mission and purpose, teams are more likely to be excited about their work. 
Figure out the workplace proposition value
How will working on site enhance the employee experience? The values come right from you! Your proposition will represent the benefits, culture, and interactions your team members experience while working on site. 
The workplace should provide valuable social interactions for the employees. A culture of connection is important to maintain throughout the transition to reentering the office full time. 
Provide opportunities for teammates to engage and discuss their work. Figure out what makes your team and the culture unique. Ask yourself, why do we come to this workplace and what makes it great? 
Be Creative and Collaborative
Capitalize on the strengths of each person on the team. When done properly, this will result in higher levels of productivity and better performance. 
In person meetings make it easier for your team to bounce ideas off of one another. Brainstorming sessions can be turned into something new and useful for the company. Working as a group sustains trust and increases productivity. 
Prioritize these creative meetings when most, if not all, of the team is present in the office. 
This time would also be great to spruce up the workspace and give it a fresh new look. It would be an exciting first project back in the office for the whole team. 
Celebrate coming back into the office
Reentering the office doesn't need to be boring. Depending on the circumstances, if you can, host a team party or lunch for your team members. This could also be seen as the end of an era, the end of working from home! Get the team to share some of their experiences working remotely, their hopes for what in person work looks like, and a goal they'd like to accomplish. Keep it positive. 
A celebration with the entire team can encourage connections and warm them up to the idea of working in the office again. 
Celebrating small victories along the way is important too. This will raise morale and boost confidence. Whether it be something like sending off a big project to a client to something as simple as getting your inbox to zero. 
Reentering the office  will be hard but the team will get used to it. Change comes with a transition period. The team will adapt and things will get smoother with time. 
Without proper preparation, the transition could be even more difficult. Don't go into it without a plan. It's also important to remember a switch won't be flipped just by saying "by this date we will be back working in the office and everything will be normal!" 
As Patrick Lencioni mentions in his Podcast "Re-entry Sucks!"
Are you and your team ready to party for reentering the workplace? Leave us a comment. 
NexLevel's Team Strategists, helping leaders bring out the best in their people. We understand the science behind how people interact with their world and will partner with you to help your teams reenter the workplace in a positive way.
We would love to hear from you. Contact us today.