What is Employee Engagement?
An engagement trend in the workplace can change in the blink of an eye. What works for your team today might not work next week or even tomorrow! Team leaders need to think forward and ensure they are updated on the latest employee engagement strategies. 
Employee engagement is the emotional connection they feel towards their job and the organization. What makes one feel connected varies from person to person. It is not employee happiness or employee satisfaction.
Engagement is how your team emotionally responds to their work. An engaged team can mean increased profitability due to the fact they perform better than those who are disengaged. 
Leaders play an enormous role in the engagement of their team. They need to lead by example and be proactive to show their team they are taking the right steps to create an engaged work environment.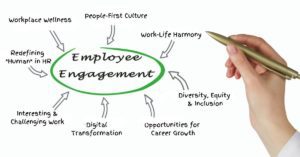 In this blog post, we'll be sharing a few engagement trend examples that
are taking the workplace by storm. These strategies are most likely
to define employee engagement. These will help you build a productive
and happy team. 
Team Comes First
Employment engagement is a goal for most businesses. If it isn't on the goal list yet, it should be! For this type of people-first culture to blossom each team member must feel respected and cared for. Respect starts from the top and flows all the way to the bottom of the organization. 
It's important to keep in mind no matter what happens to your company or where it ends up, leaders should always stick to the culture they envisioned. This vision should always be top of mind. 
Little things like surprises on birthdays or work anniversaries can go a long way. Make sure your team feels included, heard, and appreciated. 
Putting your people first and placing them in an environment where they can grow ensures they can accomplish anything. Leaders should persevere and truly believe in the mission. Adapting to change is a key part of creating your culture as well. 
Diversity and Inclusion
Team members from different parts of the world, from different backgrounds, different traditions are able to bring fresh perspectives to the table. A fair diverse culture will result in a creative, innovative, and engaged work environment. 
Inclusion is the piece of the puzzle that holds everything together. You want employees to feel like they are part of the bigger picture and feel as though they are contributing. Diversity is sustained when team leaders are successful in creating the sense of belonging for all team members. 
You will notice increased participation, cooperation, and of course engagement from the team. This strategy should become a huge part in any organization's strategy. 
Opportunities for Growth 
Your team wants to be part of a job that helps them grow both professionally and individually. Growth in the job is one of the top-seeking employee engagement trends. 
Leaders must foster an environment where employees can advance, learn, and grow in order to retain their top talent. As a team leader, you should invest in development programs as well as mentor programs for your employees. 
Most candidates would never even consider a position where they would stay stagnant. 
Organizational growth should be consistent. Recognition as well as promotions should be a frequent occurrence. 
Challenging and Interesting Work
Something that motivates your team long-term is challenging but exciting work! In fact, it might be one of the biggest motivators. 
When your employees find the work mundane or they are disinterested in the work, you'll find they aren't putting their all into what they are doing. The team doesn't want to be stuck doing the same things everyday. When the work is exciting, they'll have something to look forward to each morning and enjoy coming into work. 
Employees are critical thinkers and problem solvers. Every company must acknowledge that this is an engagement trend and create the interesting work their team is looking for. 
Goal setting, performance management, and being open to suggestions will help you retain your employees in the long run. 
Your team are brand ambassadors 
Technology and social media play a large role in corporate branding and online presence. 
Employees are likely to have ten times the amount of followers than their place of work. 
Organizations are leaping at the opportunity to turn their team into ambassadors. By doing this, they look to increase productivity. 
A key point for this engagement strategy is to educate the team on your values. Host a training session to ensure your team is fully aware of the brand's story. Your company should be a fun place to work so your team honestly believes what they are saying about your company. 
In order for your branding campaign to succeed, your team needs to have clear expectations and clear guidelines. Put together some goals as well so everyone is on the same page. 
Harmonious Work-life balance
One of the biggest highlights that is on the rise for employee engagement is embracing job flexibility. The concept is not new but the demand is higher than before. The desire for work-life balance is one of the most sought after aspects of a position. 
Flexible office hours, remote work options, and other policies are cost-effective and effective for employee engagement. According to a study by FlexJob, 75% of workers say their productivity is higher at home. 
If you are going to implement this engagement trend, remember to communicate with your team. This will help them not feel isolated and lonely. Figure out how much interaction is needed for each team member in order for them to feel connected. 
Achieving a high level of employee engagement does not happen overnight! These examples can be used as a stepping stone to see what works for your team and what doesn't. 
Your employees are crucial to the existence of the company. Success can only be achieved when your team is engaged. 
Which one of these trends will you implement into your workplace? If you have an idea we didn't mention, feel free to leave us a comment! 
At NexLevel, we're experts in building healthy organizations through cohesive teams and engaged employees. We will help you and your employees become the high-performance team you've always wanted to be by focusing on collaboration, creativity, culture, and connection. Let's Connect