Back
to basics leadership – 

Leading in the 'Next Normal'
Leadership during this unprecedented reality of our next new normal is changing. There is so much going on in business these days, senior leaders can benefit from shifting their focus  to some simple 'back to basics leadership' fundamentals.
When the focus is on these leadership fundamentals, building trust, motivation & commitment with your team members can come easier.
A team's success is dependent on a senior leader's ability to handle issues that impact their team. Leaders want their team to feel safe, being honest and candid about their problems and experiences rather than participating in interoffice gossip. 
A psychologically safe work environment is one that has established a constant, collaborative state that remains stable through fluctuations in workload and pace of the work.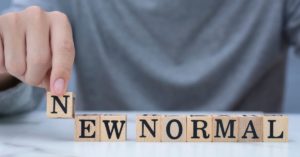 With back to basics leadership there are a few steps you can take to achieve this level of psychological safety and promote that healthy workplace culture. These tips will aid leaders in making sure the team trusts one another.
Set boundaries for your team and yourself
Did you know that boundaries fuel safety and the connection among the team? Toxicity such as gossip stems from a lack of boundaries. Trust and safety can flourish when these boundaries are put in place. 
Back to Basics Leadership means listening to your team
Make sure you are listening in a way that ensures your team feels heard and appreciated. Learn from gossip instead of trying to control it. Employees often turn to gossip when they are sharing mutual concerns or trying to figure out what is happening in the organization. 
Make time for one-on-one meetings
Setting aside the time to meet with team members one-on-one, whether it be on a monthly or quarterly basis, will provide great benefit to your team members. For 15 minutes, ask the employee for their feedback about things such as logistics, process, and communication. When you ask specific open-ended questions, it shows transparency. Take the responses to heart and take action. 
Be sure to show appreciation when employees express concerns, ask for clarification, and when they are honest lend a hand in helping them decide on next steps.
Organizational and team member values align
Hold a meeting for team members to share concerns both one-on-one and as a group. This meeting should be used to challenge assumptions and address any "elephants" in the room. Transparent, ongoing, honest feedback will reduce office politics.
Be curious
Show a genuine curiosity for your team members' opinions. Don't forget to thank them for sharing their thoughts, too. Figure out what's important to them and create a plan for what can be done to resolve problematic issues. Ensure team members take ownership of a part of the problem and resolution. For instances that are a bit more complicated, have a planning session to identify ways to mitigate the negative impact of the issue.
Ask employees for their opinions in a solo or group setting. In addition to feeling more involved and accountable, they'll also feel empowered to innovate.
Back to basics leadership is being able to tell your team you want candid communication
Frequently communicate about the idea of speaking openly and honestly. By sharing with your team consistently, it opens the door and allows everyone to feel comfortable communicating their thoughts. As a leader, remember to receive the communication well. 
Be a collaborative problem-solver
Set yourself up to be a collaborative problem-solver in office matters. Listen deeply to the problem and relay what you've heard. Ask the employee if they would like to go deeper into the issue. Together, you can weigh options and put together a plan for the next steps. Keep your word and that will create an environment of psychological safety. 
Integrity and courage should be the base of your culture
The encouragement of open and honest discussions will build your culture of courage and integrity. Team leaders need to model these behaviors and reinforce these values at every opportunity. Actively encourage the leadership team to push each other; it should come from a place of wanting to see your teammates succeed and wanting the best for your organization. 
Make reporting issues and other things as simple as possible
As a senior leader, making sure there is an easily accessible path for reports is a key part of your office culture. These reports could include anonymous surveys, hosting designated office hours, and even creating a specific email for reports that contributes to open and candid communication. Acknowledge the team member's report and keep them up to date with any progress that is made. 
Create a framework for relating to your team
Ask yourself what confidentiality looks like to you. What does it mean for your team's relationship with one another and with yourself? How will you enforce it in your organization? Confidentiality is a pillar for building trust. This contributes to psychological safety. As a senior leader, you can first lead by example. Put together a framework that represents your thoughts and you can even share it with your team to get their feedback. 
Look for the trouble and make sure people feel safe exposing it
This last tip might seem a bit strange. To create the level of psychological safety necessary for team members, leaders should be looking for trouble. This level of psychological safety is necessary for team members to feel safe revealing trouble. This level of trust is achieved after ongoing conversations that show your team you value their opinions and their input. When a team member trusts you enough to tell you about something that is concerning to them, be sure to  thank them and immediately address the issue. By doing this more often, more trouble will be exposed and solved. Although it may seem strange it will be a good thing for the type of culture you want to build. 
The goal is to create a workplace where your team feels safe and secure. Achieving this level of psychological safety will be a work in progress. Maintain a perspective that it is an ongoing learning experience. When you keep this perspective in mind, your team will see your example and follow. 
You'll begin to see higher levels of engagement, increased motivation, and overall better performance. 
Have you implemented any of these tips in your workplace? Would love to hear your thoughts.
At NexLevel, we're experts in building healthy organizations through cohesive teams and engaged employees. We will help you and your employees become the high-performance team you've always wanted to be by focusing on collaboration, creativity, culture, and connection. 
Let's Connect'
Additional reading: 'Charting a Purposeful Path to the Next Normal' by McKinsey & Company