When discussing the topic  of Organizational Health as the LAST Competitive Advantage, there are several points one needs to consider.
All the competitive advantages we've been pursuing during our careers have been displaced; strategy, finance, technology, and marketing.
These disciplines have not disappeared, but as real differentiators, they are no longer what they once were. Virtually every organization has access to the best thinking and practices around strategy, technology, financing and marketing.
What is the one remaining, untapped competitive advantage out there, one that's more important than all the others ever were?
The answer is Organizational Health and that, in itself, has become the last competitive advantage.
A healthy organization is one with minimal politics and confusion in its environment. As a result, productivity and morale soar, and good people, for the most part, never leave. Why?
Even the smartest organizations in the world will eventually fail if unhealthy.
Healthy organizations will always find ways to succeed.
Without politics and confusion, healthy organizations inevitably become smarter and tap into every bit of intelligence and talent they have.
Why is Organizational Health Untapped? 
If all this is true, then why haven't more companies embraced the benefits of organizational health?
To start, it's hard. It requires real work and discipline and must be maintained over a period of time,
Secondly, it is not sophisticated. It doesn't excite a group of executives looking for a quick fix.
And, it is hard to measure in a precise, accurate way. It impacts so many areas of an enterprise it is virtually impossible to quantify its singular impact on the bottom line.
But the biggest reason organizational health remains untapped is it requires courage.

Leaders must be willing to confront themselves, their peers and the dysfunction within their organization with an uncommon level of honesty and persistence.
Leaders must be prepared to walk straight into uncomfortable situations and address issues that prevent them from realizing their potential. 
Benefits
Shift from reactive fight-fighting into proactive leadership.
Access more time in your day
Achieve greater innovation and influence
Team collaboration
Leadership alignment
Clear communication
Effective meetings
…to name a few
The pandemic turned major aspects of business operations upside down. Now more than ever organizational health is something leaders need to make a priority.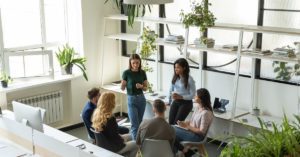 If you look at traditional organizational health you'll find it is defined by three elements. 
Financial growth, customer satisfaction, and bench strength. Bench strength is the capability of the existing employees to fill roles if another team member were to leave. We will be focusing on this element. 
Organizational health refers to the ability of an organization to cope with change and continue to function with high-performance. It is composed of social, psychological, and physiological components.  It remains an untapped competitive advantage, but  it's more important than all the rest.
Healthy organizations have minimal politics and confusion in its environment. Productivity and morale are boosted due to this. Top talent and good employees won't leave. Healthy organizations will always find a way to succeed.  
In this blog post we'll be sharing reasons why leaders should make organizational health a priority and share how to redefine bench strength in a post-pandemic office setting. 
 We also share some key factors that will affect organizational health in a positive way. 
Why does organizational health need to be a priority?
To put it simply, even if you take the smartest company in the world they will still crumble to their doom if organizational health does not exist. 
It also gives companies a competitive advantage. Without politics and confusion, healthy organizations can tap into the intelligence and talent they have, therefore becoming smarter than the competition. 
To achieve a high level of organizational health, it requires discipline and hard work over a period of time. 
In order for this to be a priority in the workplace, leaders must make the effort to confront themselves, team members and the dysfunction within their organization. A high level of courage and honesty is needed in order to make it work. 
Another thing leaders need to embrace is being put in uncomfortable situations in order to address the issues that are standing in the way of reaching the team's full potential. 
How do we redefine bench strength?
With the uncertainty of Covid-19, competent and capable team members must be ready to take on other roles if another team member requires sick leave or family leave. Employees who have returned to work after being sick might still be experiencing lingering symptoms or even PTSD depending on their situation. 
Many employees have been affected by the disease. Unfortunately, if they cannot contribute to the team the way they did pre-Covid-19 the organizational health can be impaired. Their absence can result in detrimental outcomes. 
Workplaces are affected negatively if team members are disengaged. However, when a team is happy in their career and with their work the overall organizational health will improve. Workforce culture is dependent on the way employees collaborate and interact with one another.
Leaders should identify critical key tasks and pinpoint the key players on the team who are equipped to fill in for missing team members. They can also make quick adjustments to accommodate the unpredictable situations Covid-19 has presented. 
Many innovative collaboration and communication tools have emerged over the past two years. These tools can improve team communication, interactions, and overall collaboration. 
It is important to remember those who have been infected, are sick, or taking time to be with family are not weak links. The approach to redefining bench strength gives them the power to focus on their wellbeing. 
What keys are needed to achieve organizational health?
There is no perfect formula to maintaining a superb healthy organization. Below are a few key factors you'll need to add to your recipe as you prioritize organizational health. 
Clear Communication
Without effective communication alignment cannot be achieved. Leaders should try hard to ensure transparent communication to their team. Organizations with poor internal communication tend to have a higher turnover rate than those with strong internal communication.
Remote work has made it more difficult for teams to communicate clearly. A healthy organization would approach this problem by creating extensive policies that would regulate communication between management and employees. Overcommunication gives leaders the opportunity to send important messages and be heard. 
Support for employee's wellbeing 
In order to maintain a healthy organization, leaders need to prioritize the wellbeing of their employees. Various aspects go into this such as social connections, attitudes towards the work, and of course the mental state of employees. 
Priorities of the workforce are changing and they expect their company to do the same. They expect support in their journey to achieve work-life balance. One thing more companies are doing to adapt to this change is to focus on productivity rather than hours worked. 
This key is critical to any leader trying to achieve organizational health for their team.
An aligned team
All members of the team should have a shared vision for company values, strategy, and goals. This can be achieved through consistent effort. Leaders need to address the bigger picture and ensure their team understands how their role contributes to the success of the organization. 
Alignment is composed of individual performance goals, shared company goals, and a clear understanding of each other's roles. 
Alignment will also improve employee loyalty and relationships. 
Innovation
In order to create an environment for creative and innovative thinking, flexible leadership, and active listening are required. A tolerance for failure should also be present. This contributes to the psychological safety of a workplace as well. 
Organizations that take the lead and adapt to this ever changing world will come out on top. Creative thinking and ability to innovate distinguish the health of your organization. Leaders should encourage their team to collaborate and come up with new ideas. 
When it comes to organizational health, one key thing to remember is when an employee hurts… the entire organization hurts too. It is not a one size fits all solution. Achieving optimum health in your organization will require hard work but must be prioritized. 
A great article with Patrick Lencioni on "The Untapped Advantage of Organizational Health"
At NexLevel, we're experts in building healthy organizations through cohesive teams and engaged employees. We will help you and your employees become the high-performance team you've always wanted to be by focusing on collaboration, creativity, culture, and connection. 
Ready to get started? Get a snapshot of your company's overall health. 
"Take our FREE Organizational Health Survey"  https://nexlevelteams.com/org-health-survey-form/