Organizational health SURVEY FOR LEADERSHIP TEAMs
Based on the best-selling book, The Advantage, by Patrick Lencioni
the most untapped business advantage
A Healthy Organization has: 
less politics and confusion

higher morale and productivity

lower unwanted turnover, and 

lower recruiting costs
No leader would dispute the power of these qualities. Every leader would love their organization to have them. Yet, many leaders struggle with how to make it happen.
This Survey provides a simple indicator of the health of your organization and outlines the steps to have immediate impact.

Four STEPS TO A Healthy Organization
Most Organizations invest in being smart but far less invest in being healthy. If your company isn't healthy, it can't be smart. 
Organizational health is simple in theory, but difficult to put into practice. This Survey provides your organization's score in each of the four fundamental disciplines.
Improvement in these areas guarantees a more productive & effective organization.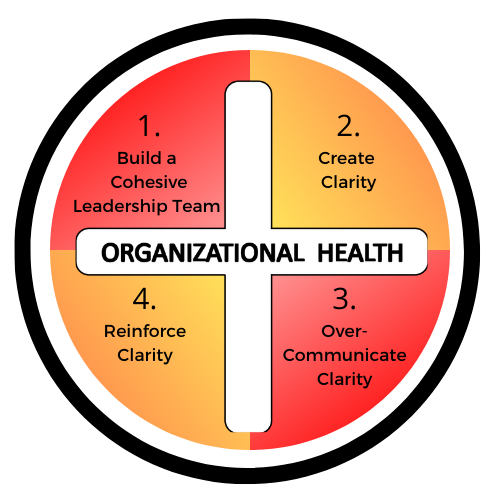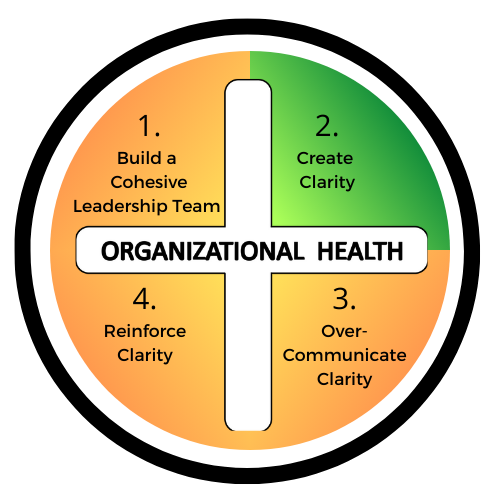 DISCIPLINE 1: Build a Cohesive Leadership Team
The first and most critical step in a healthy organization is creating a cohesive leadership team that is committed to the ongoing work of developing and maintaining a high-performing team.
DISCIPLINE 2: Create Clarity
Creating clarity at the executive level is essential to organizational success. There are six simple but critical questions that need to be answered, eliminating all discrepancies among team members.
DISCIPLINE 3: Over-Communicate Clarity
Once a leadership team is cohesive and has established clarity, they need to communicate the answers to employees over and over and over again. Specific communication strategies ensure messaging is consistent and absorbed by employees.
DISCIPLINE 4: Reinforce Clarity
For organization health to be sustainable, organizational clarity must be embedded into the fabric of the organization. Areas to consider include recruiting/hiring, managing performance, meetings, compensation/rewards and real-time recognition.
Your path to a Healthy Organization is easier than you think.