Based on the best-selling book, The Five Dysfunctions of a Team,
by Patrick Lencioni
helping leaders build cohesive and effective teams
A Cohesive Team: 
Gets more accomplished in less time

. They avoid wasting time on the wrong issues and revisiting the same topics again and again.

Make higher quality decisions and stick to those decisions.

 They eliminate politics and confusion among themselves and the people they lead.

Keep their best employees longer.

 "A" players rarely leave organizations where they are part of a cohesive team.
The primary purpose of the Five Dysfunctions of a Team Assessment is to provide your team with a sense of its strengths and areas for improvement. It provides practical, usable data that will help teams address their most critical issues and begin to make progress right away.  
This Assessment provides a simple roadmap to immediately improve trust, conflict, commitment, accountability and results.
five dysfunctions of a team THAT IMPACT TEAM SUCCESS
Like it or not, all teams are potentially dysfunctional. Yet the power of teamwork is great. Making a team cohesive requires extraordinary levels of courage and discipline.
This Assessment identifies five behavioural challenges all teams must continuously work to avoid and provides your team's score within each of these categories.
Improvement in these scores guarantees a more functional & cohesive team.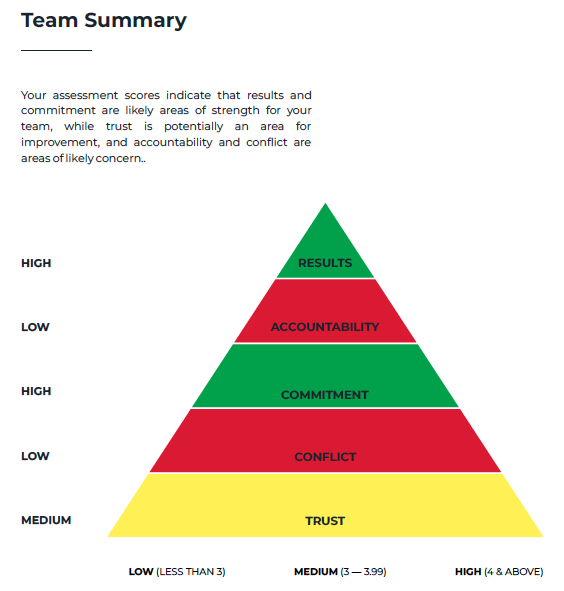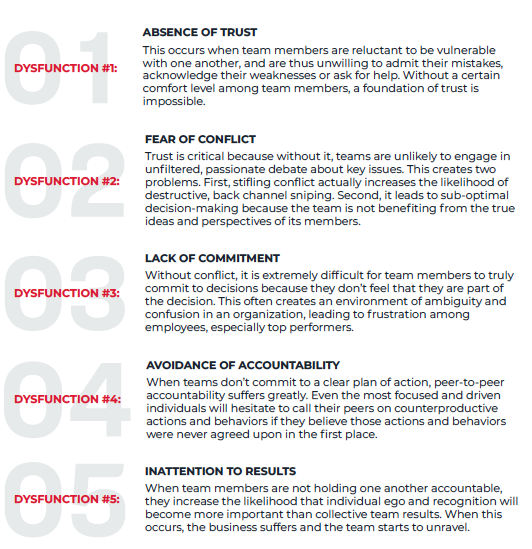 Your path to a functional & cohesive team is easier than you think.