conquer the five dysfunctions of a Team
A Fast-Paced, Engaging Workshop to Create High Performance Teams
effective teamwork remains the ultimate competitive advantage
All teams are potentially dysfunctional and this is the starting place for leaders looking to identify the five behavioural challenges all teams must continuously work to avoid. 
Based on the model developed by New York Times Best-Selling Author Patrick Lencioni, participants will:
Increase trust within the team by getting to know each other, improving psychological safety, and increasing vulnerability.
Get more accomplished in less time

 by not wasting time on the wrong issues and revisiting the same topics again and again.

Make higher quality decisions

 by eliminating politics and confusion and increasing levels of transparency and productive debate. 

Keep their best employees longer

 since "A" players rarely leave organizations where they are part of a cohesive team.
This Session provides a simple roadmap to immediately improve trust, conflict, commitment, accountability and results.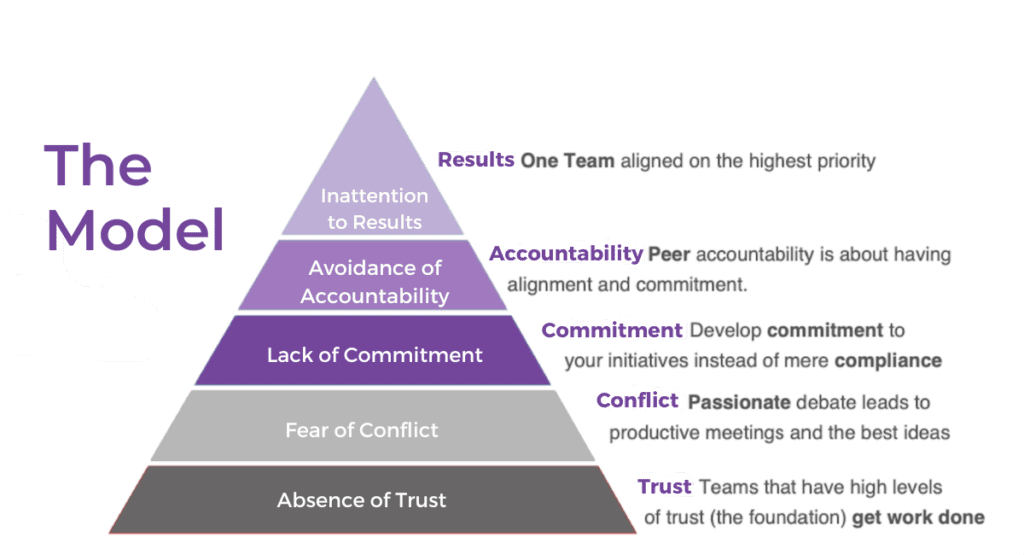 your roadmap to TEAM SUCCESS
Building healthy teams is not complicated, but it takes focus and discipline.
The Online Team Assessment, with only 42 questions and a custom color-coded report, is completed by team members in advance.
In the workshop, we review the practical & usable data to identify the teams most critical issues and develop a focused roadmap to begin making tangible progress, right away. Individuals will leave with clearly identified action plans to move the team towards greater performance.
Your path to a functional & cohesive team is easier than you think.