Collective leadership is the new normal in the workplace thanks to the COVID-19 pandemic. The pandemic has changed the attitudes employees have towards organizations and towards employers as a whole. 
The pandemic blurred or even shattered the division between work and personal life, as well as adjusting what employees value. In addition, the past two years have reshaped the relationships within organizations. 
Leaders will need to input this new approach when it comes to their team thanks to these changes. Employees are also challenging traditional workplace systems and beliefs. Traditional leadership views the organization as a machine but collective leadership views the organization as a system.
It may seem like an easy task but creating this type of workplace can be more complicated than you'd think. The organization needs to create a delicate balance between collaboration and individual accountability. 
The main goal of leaders should be to take care of their team and employees. They should be the number one priority.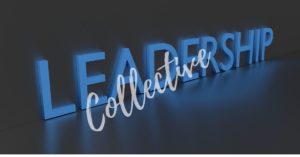 In this blog post we will be sharing why collective leadership is the new way to lead and the benefits that come with shifting to this structure.
What is collective leadership?
Simply put, collective leadership is built upon the assumption everyone can and should lead. There isn't one specific person in any organization that has all the answers. Problems in the workplace today require multiple skills and perspectives. This is where collective leadership comes in. Every employee and team member has the ability to lead. 
Collective leadership challenges the traditional office conceptions, and instead, encourages organizations to invest and build up their team as a whole versus investing into developing one leader. 
Organizations need to work to get their people to perform collectively as one unit. Instead of looking to one individual as the source of leadership, it should be shifted to a group. 
Why is collective leadership needed?
The pandemic has taken quite the toll on leaders in almost every industry. Many leaders at the senior level are experiencing burnout due to working longer hours and managing teams remotely. Organizations should pay attention and be aware of the impact the past two years have had on leaders. They should also be aware of what leaders need in order for them to be successful. 
Instead of looking to leaders to be superheroes and do everything on their own, steer away from those outdated models. Collaborative teamwork and collective leadership are the keys to distribute the responsibility and engage the greatness that already exists within the team. 
The goal of collective leadership is to create a community and recognize the value in bringing teams together. Don't be afraid to try different approaches. For example, maybe try outsourcing to other organizations who specialize in specific areas. Outsourcing helps even the workload so leaders don't have to do it all. 
Leadership roles are tasked with creating psychologically safe spaces for employees to be able to speak freely and bring their best selves to work. 
Creating the environment will not happen overnight. Look at it as an ongoing process that will evolve as employees, the organization, and community inevitably evolves. 
The benefits collective leadership will bring to the workplace
When organizations adopt this type of leadership, many benefits will follow. The beauty of collective leadership is it is not industry specific but it works across many work environments. Below are a few examples of the benefits you might see when it is put into action.
Safe workplace culture
Collective leadership cultures are safe. Employees feel comfortable enough to bring up tough conversations or issues.Psychological safety will also increase collaboration. Team members aren't afraid to participate, share their thoughts, ask questions, and admit mistakes. When leaders implement collective leadership it promotes participation. 
In a safe workplace, barriers are broken. Valuable work time is spent developing relationships among the team and having honest conversations about goals  – goals for themselves and their career as well as goals for the team. Work to form a partnership to collaborate towards a shared goal.
Development becomes a group activity
When honest and regular feedback is provided, organizations can create advancement opportunities for the entire team. When people are contributing their ideas and thoughts, they will be more motivated to see the results. 
Encourage 360-degree thinking 
Regardless of seniority or expertise, everyone is encouraged to participate. When leaders allow the perspectives and opinions of different team members to be shared, problems are able to be tackled from different angles. Did you know organizations that have at least 20% of women in senior roles are 1.4 times more likely to experience sustained, profitable growth? 
Increased productivity and performance
When employees feel they are trusted and encouraged to make decisions and create solutions,  they will be more motivated and productive. Team members who feel connected to the purpose of their work and feel as though they're being challenged will be more likely to put their best foot forward. There is nothing better for an employee than feeling like they're in an environment where they can continue to learn and grow. 
Utilize the full potential of team members
Employees are able to contribute to their organization fully based on their unique strengths and talents. They are then able to develop new knowledge, skills and expertise when collective leadership is present in the workplace. It all comes down to the fact people are recognized and trusted for the value they offer. 
Collective leadership is not about the group agreeing all the time, but combining various viewpoints. There is nothing wrong with a healthy debate between leaders. However, teams should align on their purpose and mission. Leaders need to let them choose how to get there. 
Collective leadership requires each team member to own and appreciate their strengths and weaknesses. During the process of implementing this leadership style, the entire group will relearn, and learn not only about the organization but themselves. Success will come thanks to the diverse perspectives of each team member. 
Have you implemented collective leadership in your workplace? What were the results? Share your thoughts in the comments. 
At NexLevel, we're experts in building healthy organizations through cohesive teams and engaged employees. We will help you and your employees become the high-performance team you've always wanted to be by focusing on collaboration, creativity, culture, and connection.