What is a Business

Impact Catalyst?
As Business Impact Catalysts, we exist to empower your organization to thrive within today's fiercely competitive business landscape. Our team's expertise revolves around creating impactful team and leadership programs. These programs are less about the content and information and more about behaviour change and sustainable results.
Furthermore, at NexLevel, we understand the challenges organizations face in proving the effectiveness of these initiatives. This is precisely where we come to the forefront.
In addition, by partnering with influential leaders, we foster visibility, accountability, and impactful change, directly influencing your business's success.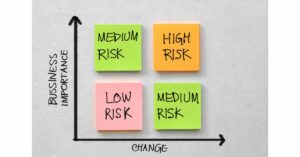 In this blog, we will explain the critical role of our business impact system. This system focuses on three essential outcomes: a healthy workplace, team performance, and measured success.
The Significance of Business Impact
First, understanding the intricacies of leadership, employee engagement, organizational dynamics, and culture is at the core of NexLevel's approach.
With our unique blend of strategic thinking, data analysis, and people management expertise, we bridge the gap between leadership initiatives and tangible outcomes, resulting in a lasting difference within your organization.
Solving the Difficulty of Proving Business Impact
Firstly, quantifying the impact of leadership and team development programs is a prominent challenge for organizations. According to TrainingIndustry.com, the global spending on leadership training in 2020 was estimated at $357.7 billion. Predictive learning analytics expert Ken Phillips forecasts that "scrap learning," or learning that is delivered but not applied, is approximately 60%. Similarly, other studies suggest this waste is closer to 85%. In today's competitive business landscape, organizations don't have that kind of money to waste.
Furthermore, the NexLevel team excels at identifying the indicators that matter and creating measurement frameworks to assess the effectiveness of development initiatives. We demonstrate the direct link between behavioural change and positive organizational shifts through data analysis and leveraging metrics.
Creating Behavioral Change That Matters
To elaborate, true transformation goes beyond traditional training and workshops. Moreover, we firmly believe that meaningful change arises from individuals thinking and acting differently.
By engaging influential leaders, fostering a culture of continuous learning, and implementing targeted interventions, we ensure positive behavioural changes that permeate all levels of your organization. As a result, these changes will lead to sustainable business impact improvements in team dynamics and overall business success.
A Healthy Workplace Culture
Recognizing the importance of a healthy workplace culture, we work closely with leaders to cultivate a positive, inclusive environment where employees feel valued, motivated, and empowered.
Not only that, our focus on work-life balance, mental health support, diversity and inclusion, and effective communication ensures a workplace where everyone can thrive. By prioritizing employee well-being, we contribute to increased engagement, productivity, and reduced turnover rates, ultimately attracting top talent and sustaining long-term success.
Optimizing Team Performance
High-performing teams are crucial for any successful organization. To emphasize this, we recognize the significance of optimizing team performance and work closely with teams to identify strengths and areas of improvement.
Furthermore, we enhance trust, collaboration, problem-solving, and decision-making skills through workshops, team-building exercises, and leadership coaching. Leveraging cutting-edge technology and data-driven insights, we streamline team processes and align goals with organizational objectives to drive meaningful change. This change has a significant influence on positive business impact.
Measured Success of Business Impact
As Business Impact Catalysts, we aim to drive measurable, positive change for our clients. From the outset, we set clear objectives and continuously fine-tune strategies using data and feedback to achieve desired outcomes. Similarly, measured success encompasses financial performance, employee satisfaction, customer loyalty, and market share.
Through a holistic approach to success measurement, we provide our clients with a comprehensive understanding of the business impact of their investments in leadership development and team programs.
Meaningful Business Impact is Possible
NexLevel's Business Impact Catalysts transform organizations by creating leadership visibility, driving behavioural change, and delivering measurable results. Furthermore, our focus on fostering a healthy workplace, optimizing team performance, and measuring success brings about lasting change that positively impacts employees and the bottom line.
In today's rapidly evolving business landscape, partnering with NexLevel is a strategic imperative for organizations looking to thrive and succeed in the long term. With our expertise and dedication, the team at NexLevel empowers organizations to navigate challenges, unlock their full potential, and create a positive business impact that ripples through the fabric of the entire business environment.
At NexLevel,

we're experts in creating leadership visibility and driving measurable change within your organization.
We focus on three essential outcomes required to achieve sustainable business success:
Healthy Workplace

Team Performance

Measured Success