Business Trends in 2022, an important consideration. A new year means a fresh start for your organization! As a leader you need to be aware of relevant business trends for the coming year. A new year also means there will be new predictions that may impact your business. 
This world is changing fast and businesses need to continue to adapt! The business world is opening back up and organizations are working to find their footing. As a leader, staying on top of business trends that are driving businesses forward in the post-pandemic world can provide you valuable insight to drive success. 
In today's blog we will be sharing some business trends for 2022 to help shed light on how operations are changing and a few leadership tips.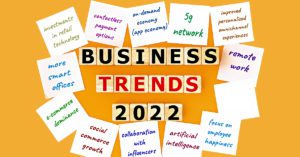 Trend #1 – Integrate with other businesses
Most tasks & projects can be achieved by outsourcing. The business world is integrated now more than ever. There is a great need to solve business challenges through working together. Outsourcing is more than just a way to lower your operational costs. It can help your team focus on core tasks, allow you to promote growth among your team, maintain operational control, and drive innovation. 
Without partnerships with other organizations, it will become difficult to achieve your 2022 goals. Partnerships will provide greater data integration, data sharing, and possibly lead to working with competitors. 
Trend # 2 – Find new ways to generate income 
In 2022, it's increasingly important for organizations to have multiple streams of income. Hone in on what you are doing or selling. Is there an opportunity to create more revenue? Maybe your business can create an online course, develop a new service, or build strategic partnerships. The possibilities are endless. In this day and age there are endless creative ways businesses can generate income. 
Don't forget to loop your team into the conversation and see what they think. Including your team in the process will help them feel included and you will develop far better solutions than you could on your own.  
Trend # 3 – Change your employee experience 
The workforce is getting younger. As millennials and Gen-Z begin their careers, the way businesses work is changing. The Pandemic has made us realize the accessibility and effectiveness of remote work.  Employees are ready to work hard and commit to their jobs, but prioritizing a work-life balance has become crucial. The traditional full-time 9-5 is a distant memory for most. 
Today's leaders need to take this opportunity to create an entirely new work experience. The most successful organizations are going to be willing to consider a new way over the way of the past. Team leaders need to create a people-first work environment or run the risk of losing their top talent to more innovative organizations.  
Trend # 4 – Make sure your operations are sustainable
In 2022, sustainability is a vital topic for every organization to consider. Businesses need to seek to eliminate or reduce their operational environmental costs. This is not something to ignore or take lightly. If you do, it will impact your business success. 
Being sustainable can be linked to being resilient. Resilience is being able to adapt and survive for the long term. Be intentional about your organization's environmental goals. They should be a priority in your organizational practices. Understand what actions can be taken and get your team involved in completing them. Hold people accountable, check-in on progress and measure the results.
Trend # 5 – Provide an authentic experience
Your consumers and customers want a meaningful connection with your brand. As a result of the change and uncertainty in recent years, consumers are searching for connection and authenticity. When your organization is authentic, it helps foster the human connection. We want to see business leaders and brands display characteristics like compassion, honesty, and vulnerability. 
As a leader, you need to provide your team with an authentic experience as well. Care about your people and get them involved in solving business issues. Show them you care about something more than simply making a profit. Have integrity and be consistent! Creating an authentic experience for your consumers will increase brand loyalty. 
Trend # 6 – Lead your business with purpose
Purpose and authenticity go hand in hand. This business trend is about ensuring your organization is serving a meaningful purpose.  Purpose is the entire reason your business exists – it should also describe what makes your company unique. 
A purpose is different than a mission and vision. Creating profit for the shareholders is not a purpose! A strong purpose strives for something better. Your organization's purpose should be concise and clear to all team members. It should be short and sweet but make an impact. 
Trend # 7 – Keep your organization agile
Leaders today need to recognize the importance of being agile and staying flexible. Traditionally, most organizations have been very rigid & hierarchical in their structure. Leaders are realizing the need for a more adaptable structure that allows the business to quickly restructure teams when needed and respond to change. 
Consider a flatter organizational structure, more like a community of flexible individuals rather than a top-down management-heavy structure. Organizations that are agile and adaptable will be more likely to succeed in the coming years.  
Trend # 8 – Network with other businesses 
Gone are the days of trying to figure everything out on your own! One of the big trends for the upcoming year is networking. Meeting other business leaders will drive new business, as well as the chance to learn from like minded individuals. You will gain new perspectives as you learn from others. Try to make a conscious effort to network frequently. 
Bonus Trend – Embrace technology
In addition to these important business trends, it's important to not forget the importance of technology. Every organization needs to be ready for increased digitization and even artificial intelligence. Technology will continue to surprise us. 
As we progress into 2022, keep these trends top of mind and consider how to use them to your advantage.  Which of these trends will you bring into your organization in 2022? Share your thoughts below. 
At NexLevel, we're experts in building healthy organizations through cohesive teams and engaged employees. We will help you and your employees become the high-performance team you've always wanted to be by focusing on collaboration, creativity, culture, and connection. 
Resource: "8 Biggest Business Trends in 2022"