Ideal team players, what are they, who are they? Dedicated and committed team players are needed in business in order to develop growth and a productive culture. 
No matter the level an employee is at, meaningful teamwork needs to be encouraged in order to create a competitive, people-focused business. 
An ideal team player does not develop overnight. The process needs to begin when the employee steps in for an interview right up until they move on from your organization. 
Strong and dedicated leaders can develop certain attributes within their team members to help them reach their full potential and get to the level where they need to be. 
In this blog post we will be sharing the characteristics of the ideal team player and some tips on developing these team members.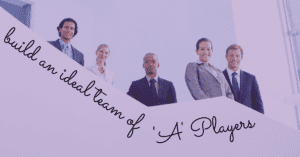 According to author Patrick Lencioni, the ideal team player will possess three main characteristics. They must be: Intelligent, humble, and hungry.  His book, The Ideal Team Player, points out that these three key qualities are necessary for a person to play an integral part in an effective team. Let's dive into each individual quality. 
Intelligence 
Being intelligent as it pertains to a team is different than being "book smart." The type of smarts needed in a team setting are emotional intelligence and strong interpersonal skills. 
These people understand what is happening in group situations and understand how to deal with others effectively. These team members will stay engaged in conversations, actively listen, and ask good questions. Those who lack this trait won't be ideal team players because they aren't aware of how to interact with others in a positive manner. 
Your team will enjoy a harmonious relationship and the affected person will also benefit from a more improved relationship with their colleagues. 
Humble
Lencioni mentions in his book that of all the qualities, humility is "the most indispensable attribute of being an effective team player." A humble team member will focus on what will best serve the team instead of vying for attention and recognition from others. They would much rather focus on how the team works together to achieve the goal. Lencioni goes on to say, "They are quick to point out the contributions of others and slow to seek attention for their own. They share credit, emphasize team over self, and define success collectively rather than individually."
When developing humility, try a personality profile test and make sense of the source of the team's insecurities. Getting to the root cause of a team member's personality can help managers discover the balance between humility and confidence. 
Hungry
It's evident when someone has the hunger to learn, serve, and succeed. Their passion, drive, dedication, and desire to improve are visible to their fellow team members and leaders. This hunger comes from within – it is a form of self-motivation that gives people the urge to keep growing and improving with time. Hungry team members feel the internal need to keep leveling up. They are always putting in the work and progressing toward reaching their full potential. "Hungry people are always looking for more" and "almost never have to be pushed by a manager to work harder because they are self-motivated and diligent," Lencioni writes. 
The process of developing hunger needs to be continuous in order to see results. Actions should include collaboratively setting targets, acknowledging progress, and reviewing performance.
Staying consistent in the development of these qualities will be key to creating ideal team players. Providing mentorship opportunities, workshops, and discussing leadership books as a group will help. Recognizing areas of growth within your team, and discussing areas where more effort is required are a few strategies leaders can put to work in order to help improve team dynamics.
Add these three virtues into your organization's values. During the interview process for potential candidates, be sure to ask questions that pertain to the three virtues. This will give you an idea of how they would fit into your team. 
So how do you develop these qualities in your team? Below are a few tips that you can implement in your team members. 
Embrace a growth culture
Embrace a culture of growth through cross-collaboration and exposure. Employees will be self-aware of their strengths and opportunities when learning is fundamental to your organization's values. Create teams where each team can come together to share ideas, best practices, and ask questions. This will create psychological safety within your company. 
Focus on coaching opportunities
Through mentoring and coaching, leaders are able to raise the bar effectively for their team. Work to understand and learn your employee's aspirations, strengths, and weaknesses. Once you have an understanding of this information, challenge them to rise up and keep them accountable. 
Adopt a growth mindset
Every single person on your team needs to be given the opportunity to develop even if they have different levels of skill and competence. As a leader, set an expectation for continuous improvement. When your team grows, the organization will grow as well. 
Identify success factors
Identify the attributes and the type of environment that allow for success as you see your team rise to the top. Continue to recreate the success factors you have discovered. By doing this, you'll ensure more of your team can move up to a high level of performance. 
Provide a clear road map
The role of any leader is to aid employees in working to improve their potential. You will inspire them to be the best they can be. Support their development and provide a clear roadmap for personal and professional growth. This will support them in all aspects of their life, including work. Try having each team member develop a one year plan with goals they want to achieve that year. And what behaviors are needed to reach said goals. Hold your team accountable and have regular check-in meetings. 
With the right training, communication, and commitment team leaders can transform their employees into the ideal team player. Developing your team takes continuous dedication. 
The success of a business is dependent on the organization of its leaders. 
How do you develop ideal team players? Leave your thoughts below. 
At NexLevel, we're experts in building healthy organizations through cohesive teams and engaged employees. We will help you and your employees become the high-performance team you've always wanted to be by focusing on collaboration, creativity, culture, and connection.