Quiet quitting is a concept that has been happening in the workplace for a long time. Thanks to social media, we are hearing about it more often. Some may classify this as a good thing but it really is quite the opposite. 
It's a buzzy topic in the workplace and on social media, sparked by a viral TikTok video earlier in the summer. But what exactly is it? 
Quiet quitting can be defined as minimalism at work. Some workers might be doing the bare minimum and doing as little as they can. Essentially, it means just doing what's in your job description and nothing more. For others, it's about setting boundaries and focusing on better work-life balance. 
This practice does not benefit organizations, society, or the individuals themselves.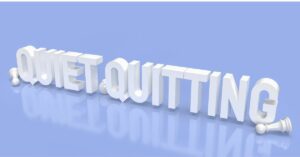 In this blog post, we'll be diving deeper into the topic and a few things leaders can do to shift this mindset.

First, let's go beyond the definition of quiet quitting. According to Gallup, 50% of the workforce in the United States is made up of those who are silently quitting their jobs. It has become a philosophy for some workers – especially those in the younger generation. 
Gallup also found a decline in employee satisfaction for remote workers under the age of 35. The percentage of engaged employees under the age of 35 dropped by six percent between 2019 and 2022.
Leaders should consider quiet quitting to be a warning sign regarding their company's culture. 
What is it about this trend that keeps people talking? Why has it taken the workplace and media by storm? 
The idea that maybe things will get better
It comes down to feeling overworked and undervalued. It's no question the pandemic heightened these feelings. Many employees are scared that if they say no or try to set boundaries they will be penalized or even fired. 
In a post-pandemic world, seeing others scale back their efforts and discussions among employees, regarding being paid what they are worth, can bring a sense of hope to the employees who feel burnt-out. Their mindset is to hold on a little bit longer to see if things change. 
Fear of things falling apart
There is a real fear the workplace will fall apart if employees check out and disengage from their daily tasks. There is concern about what could happen with an overall reduced effort. 
Quiet quitting undermines the possibility that some workers are motivated and excited about the work they do or feel accomplished when they complete a task. It essentially reduces one's role to an economic exchange. Nothing more, nothing less. 
Polarizing views
The quiet quitting buzz is an easy way to pit the older generation against the younger generation. This mindset is another example of an entitled workforce who need to pay dues and work their way up the corporate ladder. Although some see this practice as a brave and noble stand for work-life balance and boundaries – quiet quitting is not worth celebrating. 
Figuring out the puzzle 
The discussion around quiet quitting isn't going anywhere as we try to gain a deeper understanding surrounding it. It is a complex topic with various layers that still need to be explored. 
It has been lumped into the same category as the great resignation; however, that trend was a reshuffle where workers left one job to take one better suited for their needs. 
Regardless of the millions of views on TikTok, that does not mean millions of people are putting this into practice. Data has shown there is a downturn in employee engagement, and evidence efforts are being scaled back. 
Is quiet quitting a direct impact of poor management and leadership? It's quite possible. What can leaders do to help solve this issue? These practices can be put into play with both a virtual and in-person team. 
Ensure management is engaged
The first step leaders can take is addressing the engagement of managers. Those with senior positions in the organization should work with managers and teach them the skills needed to succeed. When team leaders aren't engaged… why should employees be? 
Keep an open dialogue with team members
Another thing leaders should actively be doing is having conversations with their employees. Through these conversations, managers will be able to know and understand their team. With a thorough understanding of their strengths and life situations, it will reduce burnout and disengagement. If people feel anonymous at work, they are more likely to disengage. 
Leaders should aim to have at least one meaningful 15-30 minute conversation with their employees each week. 
Keep the team accountable
Lastly, managers should keep their employees accountable. Each employee needs to be responsible for their individual performance. It's crucial they see how their work impacts and contributes to the organization on a larger scale. Make sure they know that their role matters. They need to know that what they contribute day to day has a greater impact. 
Whether they are working remotely, in the office full time, or on a hybrid schedule, each employee needs to feel a sense of belonging which will then boost engagement. 
Provide feedback and clarity
Leaders need to provide their team with some sort of indication if they are succeeding or not. No matter the job description, every employee deserves to know if they are doing well at their job. 
Leaders should also take the time to ensure their team is aligned. That could mean a refresh on the organization's mission and values or telling them why their work has a positive impact on the company. 
Organizations should be hiring hungry individuals. There are many people in the workforce that feel as though they do not have to go above and beyond. The truth is, employers should not have to jump through hoops for their employees. When a team loses a talented person with the wrong attitude, the performance of everyone else jumps up. 
If employees feel as though they are overworked and underpaid – it's time to speak up! Quietly quitting doesn't show integrity. 
As a leader how do you deal with quiet quitting in your organization? Are you aware it exists? 
Listen to Patrick Lencioni's podcast on "Enough about Quiet Quitting".
Not sure what to do? Contact NexLevel today for a FREE Organizational Health Check to find out where you are now and what simple steps can help you be better prepared for the storm ahead.
At NexLevel, we're experts in building healthy organizations through cohesive teams and engaged employees. We will help you and your employees become the high-performance team you've always wanted to be by focusing on collaboration, creativity, culture, and connection.